Allow us to design a beautiful space tailored to suit you and your home.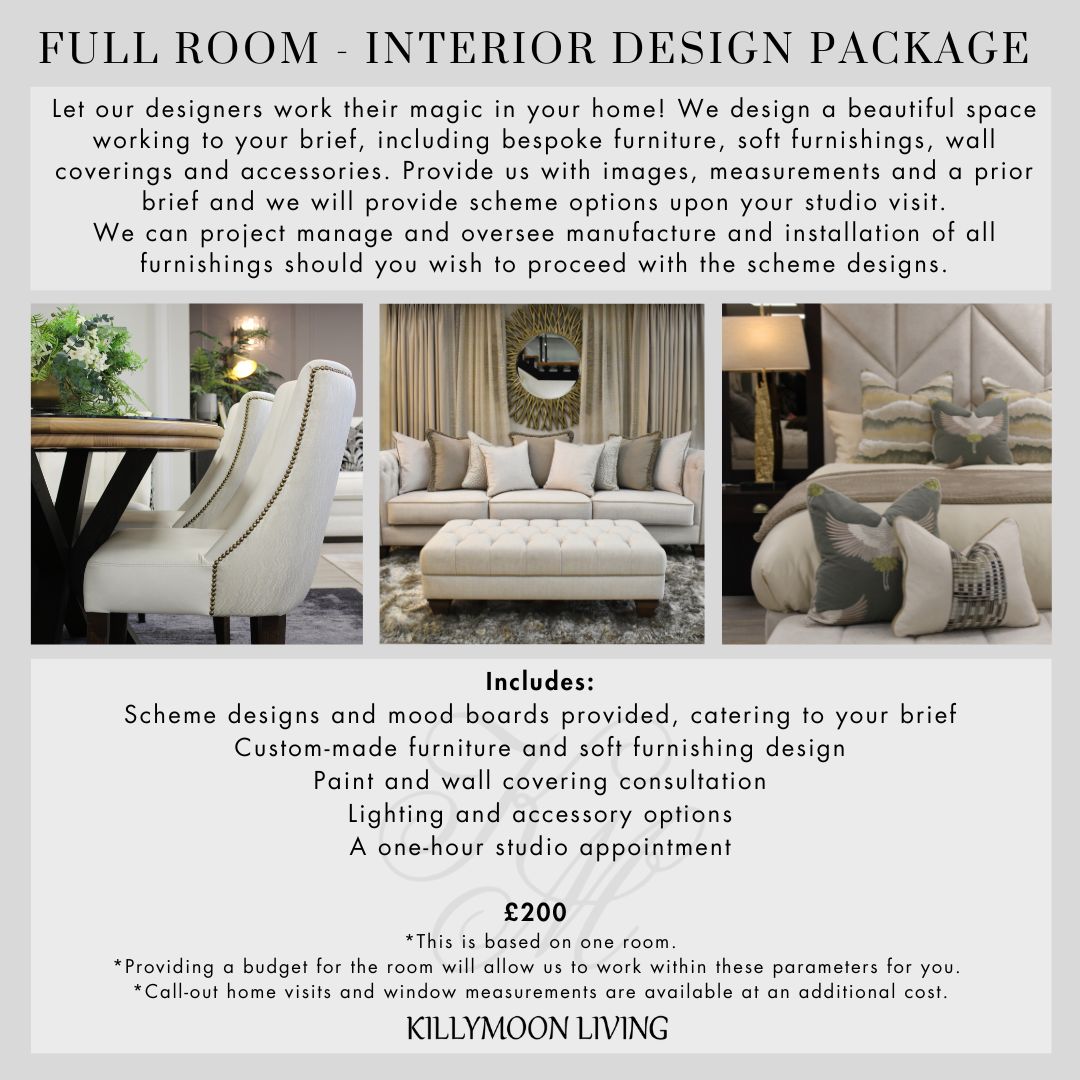 Our room design package has been created to help you transform your space into somewhere that you want to spend all your time!
We create scheme designs tailored to suit your tastes, recommending furniture layouts and design. From wallpaper to curtains, sofas to bedframes, and lamps to rugs, we have got it covered.
This package includes a one hour studio-based appointment, in which we present our ideas to you for your home. Images and measurements should be provided to our team prior to the appointment. The information provided beforehand will best guide our design team in recommending a cohesive space that you will love.
Should you wish to proceed with any of our scheme designs, we can manage your project and oversee manufacture and installation of all furnishings. As our workshop and design studio are both located in our County Tyrone based premises, we can ensure every detail is completed to perfection. Providing budget expectations beforehand will ensure that we can tailor this service accordingly.
Please note that whilst we do calculate curtain and voile fabric requirements, this service does not include window measurement or fitting. We base our curtain and voile calculations off the measurements provided to us by you and cannot take any responsibility for incorrect window measurements. 
This service is studio based and does not include a home visit. If this is a service you require, please contact us for information regarding call-out consultation fees. 
This package is £200, based on one room. Please get in contact with our team to discuss your project and rates for multiple rooms.
Please contact us to book an appointment with our design team. A pre-booked appointment is necessary for this service. 
If you have any questions about our range of services, our team is more than happy to help.